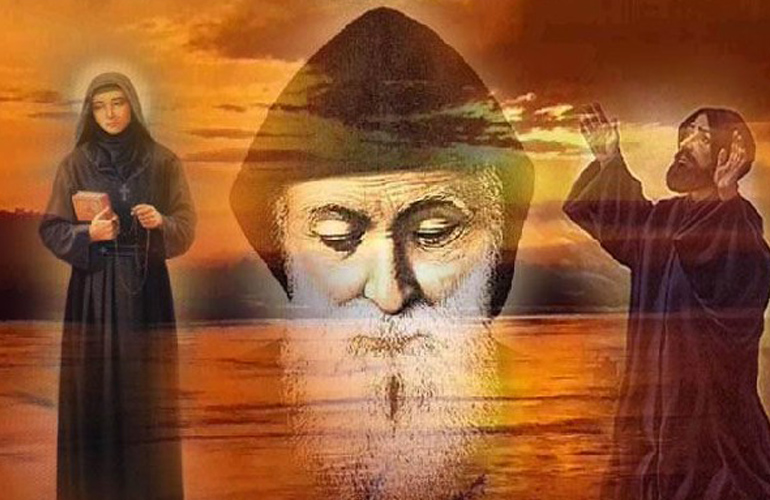 July 24,2019
On July 24, the Catholic Church celebrates the life of St. Charbel Makhlouf, a Maronite Catholic priest, monk, and hermit who is known for working miracles both during his life and after his death.
On the occasion of his beatification in 1965, the Eastern Catholic hermit was described by Pope Paul VI as " a new, eminent member of monastic sanctity," who "through his example and his intercession is enriching the entire Christian people."
Born into humble circumstances in Lebanon during 1828, Yussef Antoun Makhlouf was the youngest of Antoun Zaarour Makhlouf and Brigitta Elias al-Shediyaq's five children. Antoun, who had been taken away from the family and forced into hard labor, died when his youngest son was only three.
Yussef studied at the parish school and tended to his family's cow. Engaged in prayer and solitude from a early age, he spent a great deal of time outdoors in the fields and pastures near his village, contemplating God amid the inspiring views of Lebanon's valleys and mountains.
His uncle and guardian Tanious wanted the boy to continue working with him, while his mother wanted him to marry a young woman. Yussef had other plans, however, and left home in 1851 without informing anyone.
Yussef would become "Brother Charbel," after making a pilgrimage on foot to his new monastic home. In this, he followed the example of his maternal uncles, who were already living as solitary monks at the Hermitage of Saint Paul in the Qadisha Valley.
Charbel took his monastic vows in November of 1853, during a solemn ceremony which was closed to the public and off-limits even to his family. He subsequently studied for the priesthood and was ordained, returning to the Monastery of St. Maron.
The priest-monk lived and served in the monastery for 19 years, showing great devotion to the life of prayer, manual work, and contemplative silence.
Charbel's superiors observed God's "supernatural power" at work in his life, and he became known as a wonder-worker even among some Muslims. In 1875, he was granted permission to live as a solitary monk in a nearby hermitage dedicated to Saints Peter and Paul.
Rigorous asceticism, and a profound union with God, continued to characterize the monk's life for the next 23 years. Deeply devoted to God's Eucharistic presence, he suffered a stroke while celebrating the Divine Liturgy of the Maronite Catholic Church on December 16, 1898. He died on Christmas Eve of that year.
St. Charbel's tomb has been a site for pilgrimages since his death. Hundreds of miracles are believed to have occurred through his intercession with God, both in Lebanon and around the world.
He was canonized in 1977 by Pope Paul VI, who had earlier hailed the Lebanese Maronite saint as an "admirable flower of sanctity blooming on the stem of the ancient monastic traditions of the East."