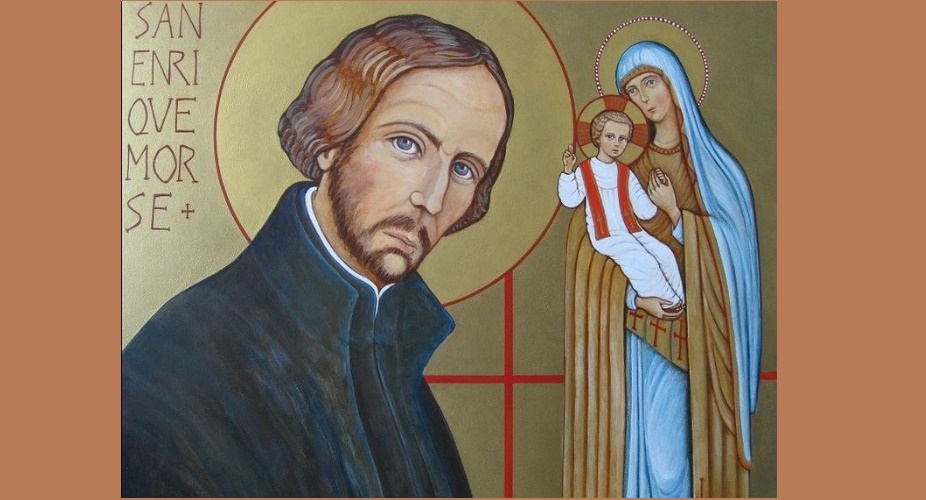 February 01,2019
Henry Morse was born of Protestant parents in Suffolk, England. He began his studies at Corpus Christie College, Cambridge but left at the age of seventeen to study law at Barnard's Inn, London. During this time he became increasingly dissatisfied with the established religion and more convinced of the truth of the Catholic faith. In 1614, he went to the English College at Douai, Flanders and was received into the Catholic Church. His older brother, William had become a Catholic the year before and was at that time a seminarian at Douai.

Shortly after his conversion, Henry returned to England to prepare to enter the seminary that autumn. Upon arrival, he was asked by the English port authorities to take the oath of allegiance acknowledging the king's supremacy in religious matters. The recent convert resolutely refused and was arrested and imprisoned for four years and was released in 1618 when the king decided to get rid of hundreds of religious dissenters by banishing them to France. Henry made his way to Douai again but was sent to Rome as the English College there had too many students. He was ordained in 1623.

Fr Morse returned to England but before leaving Rome he visited the Jesuit General and requested to be admitted into the Society of Jesus. The General agreed and told him that he would be admitted after his return to England and wrote to the Jesuit superior in England to accept Fr Morse upon his arrival. Fr Morse probably entered the Society in 1624 and spent his novitiate period doing pastoral work in the Newcastle area in northern England. After 18 months of traveling from station to station, he was due to conclude his novitiate by making the 30-day retreat in Flanders, but the ship he was sailing in was unexpectedly halted at the mouth of the Tyne River by soldiers searching for a priest disguised as a foreign merchant. They discovered Fr Morse instead. Thus Fr Morse was arrested and imprisoned a second time and sent to Newcastle prison. Shortly, another Jesuit was also imprisoned. He was Fr John Robinson, a classmate from Rome, who was on his way to take Fr Morse's place. Both ended up at York castle where Fr Robinson directed Fr Morse in the retreat which completed his novitiate.

Fr Morse was banned from England after serving 3 years in prison and returned to Flanders where he served as chaplain to the English soldiers serving in the Spanish army then in Flanders. Later he served as assistant to the novice master until 1633 when his health broke. He returned to England to replace Fr Andrew White, who had accompanied the first Catholic settlers to southern Maryland.

Fr Morse was assigned to work at the parish of St Giles in a poor district outside London. While he was there, the city and suburbs were ravaged by a plague. Fr Morse threw himself into caring for the plague-stricken; hearing confessions, securing medicine for the sick, took viaticum to the dying and prepared the dead for burial. His reward for his selfless service was to be arrested a third time and imprisoned at Newgate prison. He ably defended himself at the trial, but was convicted nevertheless although sentence was never passed. He was released two months later because of Queen Henrietta Marie's intervention in recognition of his service to plague victims. After his release, Fr Morse returned to the continent and again became chaplain to the soldiers as he could no longer move about safely in England.

In 1643, he was again assigned to England and was sent to Cumberland where he was less well-known. He worked for 18 months until he accidentally walked into a group of soldiers late one night who suspected he was a priest. He was arrested and held overnight in the home of a local official. Fortunately, the official's wife was a Catholic and helped him escape. He enjoyed freedom for 6 weeks but one day he and his guide lost their way in the countryside and innocently knocked on the door of a house to ask for directions. The man who answered was one of the soldiers who had recently apprehended him and remembered him well and there would be no fifth escape.

Fr Morse was moved from local jails to London's Newgate in January 1645 and tried at Old Bailey; his very presence in England proved him guilty of violating the law by coming back after he had been banished. He was found guilty of high treason and condemned to death. During the 4 days between sentencing and execution, many visitors came to his cell seeking his prayers or asking for a keepsake. Among them were ambassadors from the Catholic countries who wished to show their solidarity with the Catholics in England.

At 4 am on February 1, Fr Morse celebrated his last Mass. At 9 am Fr Morse was dragged to Tyburn, the place of execution outside London. He mounted the cart beneath the gallows. When they placed the noose round his neck, he addressed the people: "I am come hither to die for my religion……I have a secret which highly concerns His Majesty and Parliament to know. The kingdom of England will never be truly blessed until it returns to the Catholic faith and its subjects are all united in one belief under the Bishop of Rome." He ended by saying: "I pray that my death may be some kind of atonement for the sins of this kingdom." Then he said his prayers an asked that the cap be pulled over his eyes; beat his breast 3 times, giving the signal to a priest in the crowd to impart absolution. He then said: "Into your hands, O Lord, I commend my spirit." After he was dead his body was torn open, his heart removed, his entrails burned and body quartered. In accordance with the custom that followed executions, his head was exposed on London Bridge and his quartered body was mounted on the city's four gates.

Fr Morse was 50 years old at the time of his martyrdom and had been a Jesuit for 20 years.